2008
Ephemera
Técnica: vídeo e video mapping
Material: Planta, projeção


Esse vídeo consiste da gravação de imagens em time-lapse de plantas em movimento projetadas sobre o corpo humano. Ephemera nasceu de uma investigação sobre plantas no contexto de arte e tecnologia. Plantas poderiam ser consideradas como interfaces para a natureza, caso pensemos a natureza dentro de uma visão mais ampla. No processo criativo desse trabalho a luz como elemento presta um papel fundamental e foi tomada tanto como metáfora, assim como, substância que interconecta seres humanos e natureza numa única paisagem.




Num mundo mediado por tecnologia, arte persevera como ação fundamental para uma reconciliação entre a intuição humana e as energias vitais veladas na natureza. Plantas estão vivas e em movimento, mas em sua forma de existir muito do seu comportamento escapa nossa percepção. Ephemera constrói sua poética com base em diferentes temporalidades para criar um espaço entre. Sua metáfora busca trazer visibilidade a esse interstício no qual novas formas de ser se apresentam.

Mais do que transformar a pele humana numa espécie de tela orgânica, Ephemera, por sua vez, usa luz como meio para amalgamar seres de diferentes naturezas mas que compartilham uma conexão mais profunda: a expressão como um organismo vivo.

This work consists of time-lapse images of plants projected on the human body. Ephemera emerged from an investigation about plants in the context of art and technology. Plants are interfaces for nature, if we think of nature as a broad concept. In the creative process, as well as in nature, light plays a fundamental role. On this project the element light was taken as the metaphor, as well as the physical path that merges human beings and nature in a single landscape.

In a world mediated by technics art endures as the key action for reconciliation between human intuition and the vital energies concealed in nature. Plants are alive and in motion, but they exist in a mode of being that many of their behaviour escape human perception. Ephemera builds its poetic upon these different temporalities to create a space in between. Its metaphor aims to bring visibility to such an interstice in which new forms of being may happen.

More than transforming the human skin in a sort of organic screen, Ephemera is rather using light as a medium for amalgamating beings of different nature but which share a inner connection: organic life.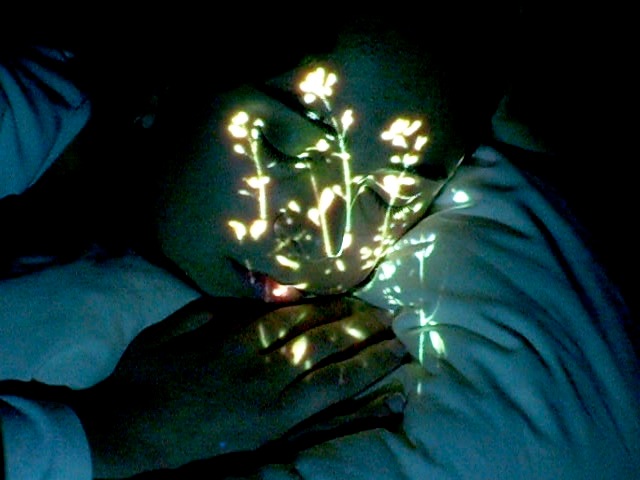 Sound designer

Vídeos de plantas em time-lapse

Partciparam desse projeto / Took part of this project

Aga
Bruna Alves
Jenny
Lali Krotozinsky
Leandro Costalonga
Maria Campbell
Maria Aline
Patrícia Freire
Sana Murrani
Thiers
Theo